Sunetra's background in art and music
Sunetra started her journey into the world of music at the age of 7 with the Children's division, Banichakra, learning 'Chorar gaan'. Later, she learnt Hindusthani classical music for about 5 years under the tutelage of Late Gautam Goswami, Late Sukhendu Goswami and Debiranjan Banerjee at Kolkata. Being from a family where her brother and sister were into learning vocal music too, she imbibed a keen interest in Tagore songs, Nazrul songs and modern Bengali songs.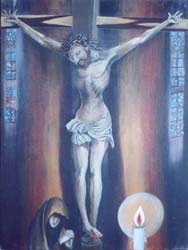 However, it was painting that became her primary passion, after she started learning under the guidance of Ajit Gupta at BaniChakra. She continued as a student of oil-painting for about 6 years till her marriage and produced many frames in this time,some of which adorn the walls of our apartment. She continues to draw pictures and read about her favourite painters in her spare time. She has also inculcated the habit of reading Bengali books by contemporary writers, her brother Monojit being a connoisseur of Bengali literature and poet of Bengali modern poems. Among her favourites are Saradindu Bandopadhyay, Tarashankar, Sunil Gangodaphyay, Shirshendu Mukhopadhyay, Sanjib Chattopadhyay.
During our stay in Bhubaneswar, Sunetra, explored the area of 2D/3D animation at Arena multimedia, Bhubaneswar. She always had the flair of drawing pictures on the PC using software like MS-Paint inbetween office work. During the one year she was at Arena she picked up skills in packages like Photoshop, Illustrator, 3DMax, and was able to use her knowledge of painting to create nice effects with these packages.
Sunetra's favourite painters
Vermeer (1632 - 1675) is one of the most highly regarded Dutch artists of all time, yet his life remains shrouded in obscurity. As far as we know, he spent all his life in his native town of Delft, where he seems to have worked as an art dealer and run a tavern in order to support his family of 11 children. Its hardly surprising that painting appears to have been a part-time activity, and Vermeer's output was very small. There are about 35 authenticated works by Vermeer, but in them the artist perfected a style and approach to painting that were entirely his own. His best-known pictures show interiors with one or two figures reading, writing or playing music, quietly absorbed in their tasks. The colors are always fresh and cool, the paint sparkles with reflected light, and the total image is one of composed serenity.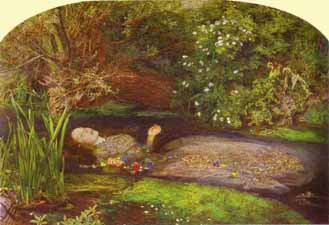 John Everett Millais(1829-1896) was one of the great Victorian success stories. His precocious talent was nurtured by doting parents, and from the time he became the youngest ever student at the Royal Academy he was marked out as a rising star. In his twenties he suffered some temporary setbacks, but was soon set on the course that made him president of the Royal Academy and the richest artist of his day. His success was based on pictures that appealed to the public taste for romantic or sentimental subjects and he excelled at painting children. He had eight children himself and a happy family life, but a shadow hung over him: the annulment of his wife's previous marriage to the art critic John Ruskin meant she was ostracized at court. Only when Millais was on his deathbed did Queen Victoria receive her.
One of the most original artists ever, Vincent Van Gogh(1853 - 1890) worked as an evangelist before taking up painting at the age of 27. He was largely self-taught, but absorbed the inspiring lessons of Impressionism during two years in Paris. Then he moved alone to Arles in the south of France, where he painted the landscapes, still-lives and portraits which became his most famous works. They are all signed simply 'Vincent'. Van Gogh's life was a grim and desperate struggle against poverty, hunger, alcoholism and insanity. His attempt to found an artist's colony with the painter Paul Gauguin ended in the harrowing experience of self-mutilation, when he cut off part of his left ear. And though his younger brother Theo supported him to be last, Vincent's agony ended in suicide. He shot himself in the chest, aged 37.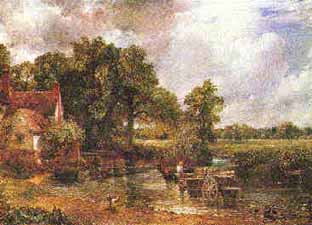 John Constable(1776-1837), perhaps the greatest and most original of all British landscape artists, is renowned especially for his views of the Stour Valley in Suffolk, Salisbury Cathedral and Hampstead Heath. He was brought up in the country, and out of his deep love for the English landscape grew a determination to record its beauty: to capture its moistness, light and atmosphere, as well as its shapes and colors. Today, Constable's genius is acknowledged throughout the world, but during his own lifetime, landscape painting was unfashionable, and the artist was forced to struggle for recognition. He was 39 before he sold his first landscape. And although his magnificent paintings were acclaimed in France, the Royal Academy in London refused him full membership until 1829 - just eight years before his death.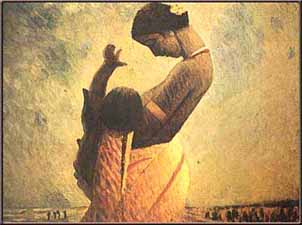 Jamini Roy (1887-1972) is among the most significant and influential Indian artists of the 20th century. He enjoyed a great deal of respect and fame during his lifetime. His work is still held in high esteem in India and is achieving growing international renown. Roy received formal training at the Calcutta College of Art (also known as Government School of Art) where he learned academic methods then in vogue in the West, and achieved his early fame as a portrait painter in the European tradition. Eventually, however, the artist rejected these conventions to cultivate a personal painting style inspired largely by traditional Indian folk and village arts, particularly those of his native Bengal. Jamini Roy utilized his considerable skill and intelligence to create a body of work that resonates with the history of modern India.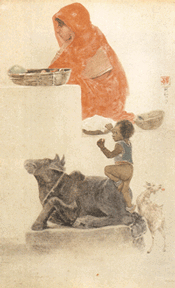 Regarded as the father of India's modern art, Abanindranath Tagore was born at Jorasanko on 7th August, 1871. As a young man he came under the influence of Signor O. Gilhardi, Principal of the Calcutta school of Art and Charles Palmer, another noted artist. At the age of 20, he stumbled upon an album of Mughal and Pahari miniatures and was greatly influenced by the fine decorative lines, vibrant colour and descriptive imagery. Abanindranath quickly matured as a painter absorbing ideas from the seventeenth century Hindu and Mughal paintings. Abanindranath's paintings were exhibited in London and Paris in 1913, followed by another international exhibition in Japan in 1919. The influence of Abanindranath on modern Indian art is profound and under his guidance a new generation of painters- Nandalal Bose, Asit Halder, Kshitindranath Majumder and Jamini Roy - brought about a revival in Indian art.