Meet Anirban
So how do I describe myself?
&nbsp&nbsp&nbsp&nbspMyself, I work with
Cognizant Technology Solutions, Kolkata.
&nbsp&nbsp&nbsp&nbspHave been developing solutions in SOA, EAI space, with technologies like
java, JEE, SOA
.
How I got into software?
&nbsp&nbsp&nbsp&nbspWell my stint with the software industry started with a job in a software consultancy firm after my post graduation from
IIT Madras
in 1994.
&nbsp&nbsp&nbsp&nbspInitially it was difficult to find a compatibility between my work and my MTech major. But then, the scope of
Software Engineering
, the competitive spririt, the experience of working for Customers abroad, proved more than fulfilling as a career option. The basic discipline instilled in me in my first job as Production Engineer at Tata Bearings was a boon in many ways. The ball bearing, being an engineering product of the highest precision, is subject to the most stringent quality control procedures during the manufacturing process. In the software industry also, review activities, defect prevention measures and CMM level assessments are part and parcel of everyday life. What my undergraduate education in
Production Engineering (Jadavpur University, Kolkata)
has given me is a broad outlook, the ability to adapt to different situations. The discipline of Production Engineering lays emphasis on inter-disciplinary studies bridging the gap between Engineering and Management education. My schooling was in
South Point High School, Kolkata
, and the symbol of my school -
"Courage to know"
still is a driving force in me.
My hobby
My hobby is playing my Hawaiian guitar. I learnt this instrument in Kolkata for a few years under the guidance of a notable exponent of this instrument. His memory is still vivid in me and the seriousness with which I play the instrument, even if one line, comes from his tutelage.
Where we stay?
We are back to Kolkata after a long time at Bengaluru. Loving it every moment, lots of nice flyovers and roads and more in the offing.
Where I am from?
My parents and my sister stay in our Kolkata apartment on VIP Road. My father is a retired Civil Engineer. My mother, a housewife, is a keen follower of Bengali literature, particularly the works of Tagore. My sister, Urmi, likes to listen to Hindusthani classical music.
About my PC
My PC, which was my most precious possession, is now taken over by my kid, for his rhymes and ABCD drills. My Dell laptop has become the object that I use most of the time to surf the net at home.
How I got interested in multimedia website design?
The 'Avishkar Karo' course in Arena Multimedia, Bhubaneswar, induced my interest in multimedia website design and rekindled the dormant desire of putting up this website on myself and my family. It was a fun learning experience, going to Arena multimedia on weekends, and getting to know about some of the nice multimedia packages, like Adobe Photoshop, SoundForge, GIF Animator. The faculty was very supportive and friendly in nature and we still miss the classes of AmitSir,SanjaySir and others. Its wonderful really that such a huge variety of software packages can be downloaded free of cost from the Internet. The software that I used to convert my Audio CD tracks to MP3 files - MusicMatch Jukebox is one example.
Our kids, Anish and Sunanda
My kid Anish is going to Grade 5 at DPS New Town and keeps us on our toes everyday with his mischiefs. He is always active and likes to switch on his PC and do video games on cartoonnetworkindia.com. The rest of the times he is doing puzzles or driving his newly acquired remote controlled cars.
My daughter, Sunanda is now 3 and half years and also goint to same school, keeps us busy by trying to attract our attention by all means. She is particularly inquisitive about electronic items!
Sunanda's birthday photos 2011
Meet my wife, Sunetra
Her interests?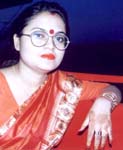 My wife, Sunetra has a artistic sense that complements my imaginative temperament and is one of the uniting bonds between us. She has learnt painting and Hindustani classical music in Kolkata for quite a few years. Being from a family where her brother and sister were also into learning vocal music, she developed a sense of appreciation of music which is quite unique. Her range is anything from Indian classical to Western classical or pop. She is also fond of reading Bengali literature
Her education
A Science graduate from Calcutta University, she did a diploma in Computers from Lakhotia Computer Centre and got a job in the Data Scan division of Development Consultants Ltd, Kolkata, where she worked for a few years before marriage.
How she spends her time?
Sunetra tries to be creative in her household chores in many ways. For example, she likes to experiment with her culinary skills by reading various books and surfing the Internet. She spends her pastime watching serials on TV, surfing the Internet, practising the keyboard, oil-painting on canvas.
Where she is from?
Sunetra's mother, her elder brother, Monojit, and wife, Mili stay in their house in Lake Gardens, Kolkata. Her elder brother works at Anandabazar Patrika, Kolkata. Her father was a doctor of repute and passed away in the year 1996. Her elder sister, Ratna is married and has a daughter, Bubu(Anurita), who is special to Sunetra in many ways. Her elder sister and her husband, Angshu work in a bank in Kolkata.
Wondering when we got married?

Our marriage was an arranged one, and took place on 14th August,1999. I still remember the early morning on 15th August, when Sunetra accompanied me to my house, amidst the loudspeakers blaring patriotic songs. From then on, we have remained together, given each other solace at times of distress and shared each other's happiness and sorrows. The bonds that unite us together are our passion for music and our eagerness to travel to faraway places.